Soccer has been a center of attention globally irrespective of the fact that it is played in some countries or not. The popularity of the game is ever-increasing, and you will observe people, who can not play soccer, will also love to watch the matches with great zeal. Even people who do not know how to play this game will love to watch the matches for long. So, if you can't play football, you can still serve your passion for the game by playing Score! Match – PvP Football. Challenge your friends in 1 vs 1 matches. Go for the download of the Score Match Mod APK latest version.
Relevant Mod: Bike Mayhem Mod APK
The Gameplay
At the start of the game, you must make yourself accustomed to the gameplay by playing through the tutorial. Once you are familiarized with the controls, then the real test of your soccer skills starts. One of the best things about Score Match game is that it makes the game much easier to understand & play. This will enable you to complete all the levels without any problems.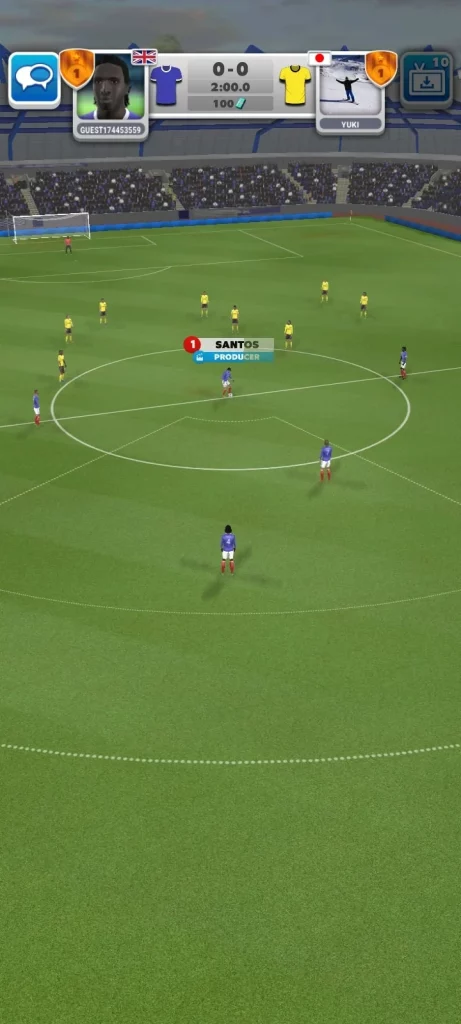 Play in Arenas
There are a total of 11 arenas in the game. When you start the game, only Arena 1 is unlocked. The of the Arena 1 is Junior. Arena 2 is named as Amateur that needs 40 stars to be unlocked. Sem-Pro is Arena 3 for which you must have 90 stars. Arena 4 is Professional and required to have 170 stars for unlocking. Deluxe is the name of Arena 5 which needs 260 stars. Premier is Arena 6 for which you must have 420 stars. Supreme Arena needs 670 stars and Elite Arena needs 1030 stars for unlocking. For the Master, Arena 9, you should have 1520 stars. Legend Arena needs 2160 stars and lastly, you must have 3000 stars to unlock Infinity Arena.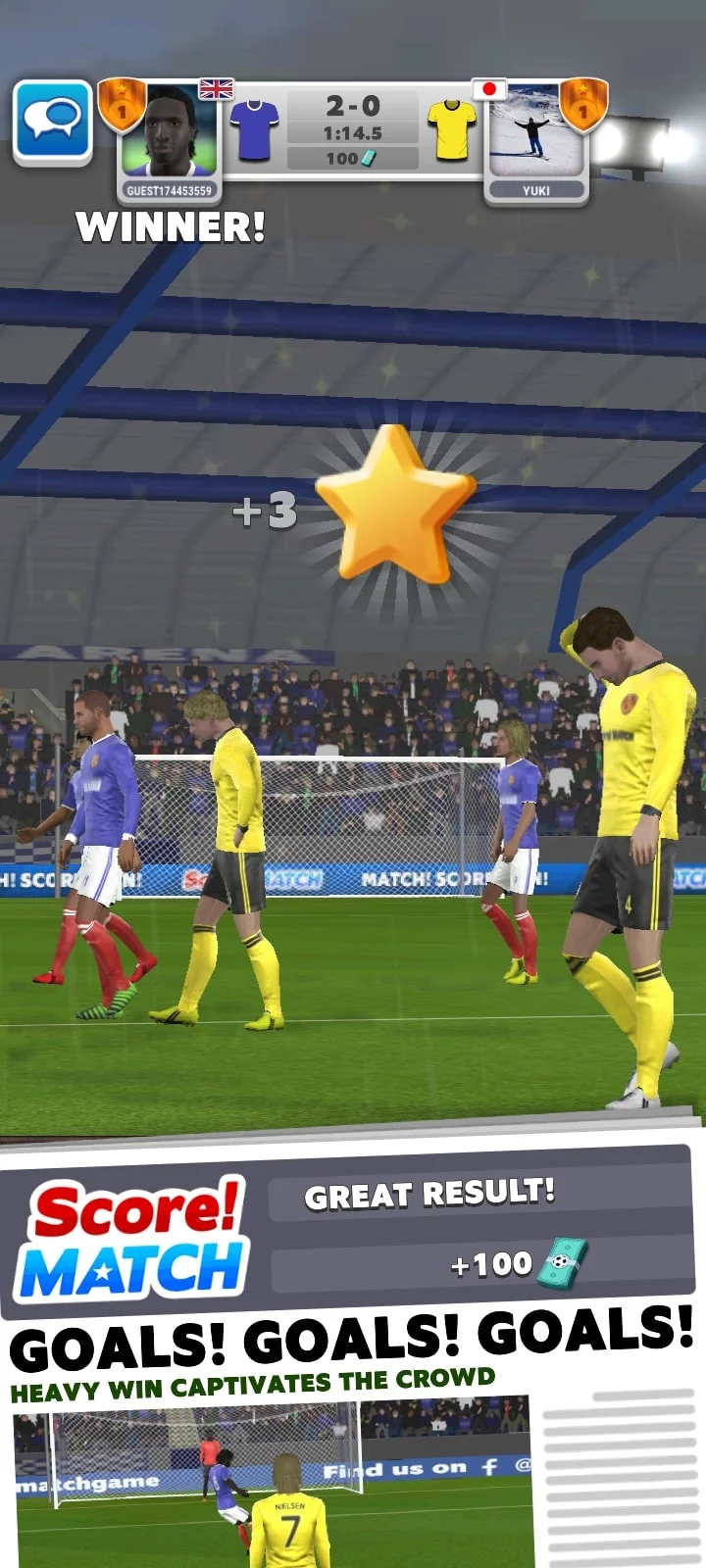 Upgrade Players
Collect and upgrade your players. Upskilling your players will result in stronger players thus making your team win matches. The real-time matches are tough and player upgrades are the best option to compete with the top teams. You can upgrade player speed, height, strength, Power, Skill, and Response. Besides that, grab Package Speed which will reduce the time to open a package by fifty percent. Get a Package Reward to increase all free, Goal, Standard, and Silver package contents by 80%. Goal Bonus will give you one additional goal for your season's progress.
Facebook Login
Log in to your Facebook account and unlock great features of the game. You will be able to recruit your friends to your team to make the game more memorable. Play for your friends as well to earn some amazing rewards. Play with your friends in 1 vs 1 matches and polish your dribbling, tackling, passing, and shooting skills. You will also a Platinum package for free as well but remember it is only for one time.
Game Features
Supports 14 languages
Select from 173 countries
In-game chat feature
Color blind mode
Weekly Events
Facebook login
Mod Features
Score Match Mod APK Unlimited Gems and Money
Unlimited Bux
Latest Version
Offline Version Available
Unlimited Stars

Additional Features
Choose a lower frame rate to save your battery and refrain the device from heating. Although a high frame rate makes the gameplay smoother, you must have a high-end device to choose a high frame rate
Low frame rate will also help you to avoid graphical glitches, performance issues, and device heat-ups.
Pros & Cons
Pros
Free To Download and Play
Real-Time 1 on 1 Matches
No Ads
Top Quality Graphics and Animations
Easy to Master Controls
Nice and Easy Gameplay
Cons
Needs Agile Decision Making
In-App Purchases
FAQs
Will you be charging me any money to use this Mod APK file?
No, you won't be charged anything to use this Mod APK.
Does this game offer to log in via my social media accounts?
Yes, for now, you can connect your Facebook account to this game to play with friends.
Which Android version does this game support?
Score Match supports Android 5.0 and up for smooth gameplay.
Conclusion
Score Match is a fast-paced soccer game that offers you to become one of the best soccer game players. Game controls are very easy to learn as you first have to select a player by tapping on it and then draw a line on the screen to pass the ball. To tackle the ball, you also need to select the player and the rest will be done by the player. Score Match Mod APK will provide you with the best paid features for free. Impress your social circle by showing skills and staying at the top of the rankings.