Mob Control is a single-player action game in which your task is to crush the tower. Fire the cannons and multiply your fighters. Every win will let you build the Diorama. Collect special cards to get hold of great rewards. You will move your fighters through gates to apply a multiplier effect and increase their number. You must avoid the red gates and counter red crowds. Enjoy this game in an offline mode as well. Mob Control Mod APK latest version will be your ultimate companion to win the first position in global rankings.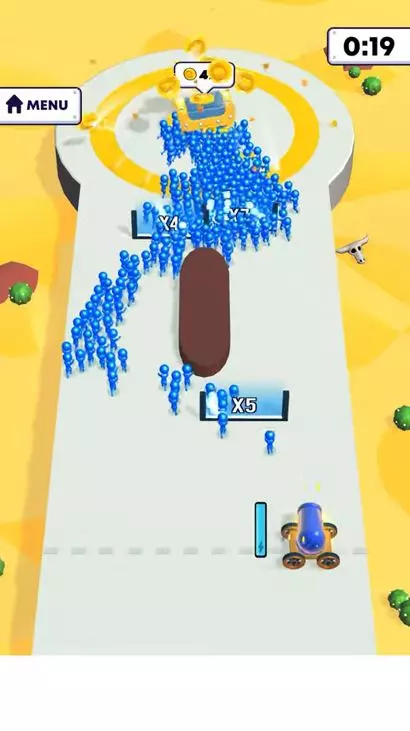 The Gameplay- Mob Control Mod APK
Your objective is to multiply the number of your fighters to crush the tower and red crowd. The red crowd will try to create hindrances in your journey so handle them with full force. You will fire the cannons at the gates to generate your fighters. Each gate has a different capability of multiplying the warriors. You just need to move your warrior in your desired direction and keep firing the cannons. The warriors are differentiated by their colors, Blue colored warriors are on your side whereas the red-colored warriors are your opponents in the Mob Control game Mod APK.
Also see Massive Warfare Mod APK
Increase Your Warriors
Your prime objective is to increase the number of your warriors. As you grow the number of your soldiers, you will become stronger. The huge number of warriors will let you take control over your opponent and crush the towers. You will find the gameplay of Mob Control game amazingly simple. You will become a pro player within no time. Just use your calculation ability and make your fighter crush through the opponents.
Special Offers
There are special offers for you in the game which will make your gameplay easier than ever. You can go for the No Ads option that will not show any ads to you during the game. Choose the Triple Cannon option to grab the most powerful canons in the game. Lastly, you can go for the Cards option that will let you get 50 triple cannon cards. Besides all these special offers, you can use the Skip'its option with which you can get the rewards without watching the videos.
Amazing Missions
The game offers you three types of missions namely daily, weekly, and season's missions. In daily missions, you need to win 10 battles, collect 4 shields, and complete 4 base sections. The weekly mission needs you to win 55 battles with the Normie mob. Lastly, in Season's missions, you need to win 310 battles with Normie Mob, collect 1700 cards, win 260 battles, collect 55500 bricks, collect 85 shields, and win 180 battles with regular cannons. You will also get a Winter Pass, complete the pass, and unlock the new Knight mob.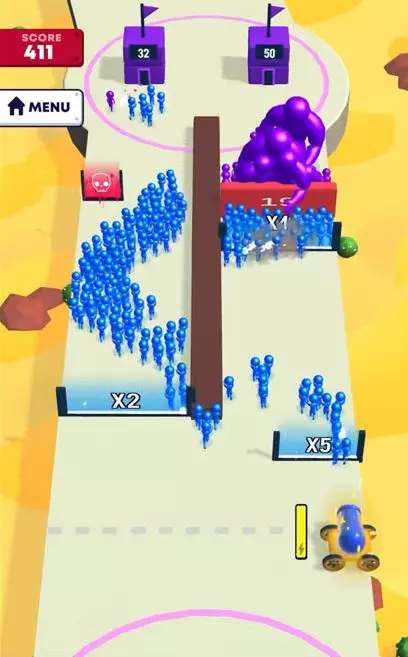 Champions
There are three champions in the game. Great Normie has a strength of 500 points, a health of 500 points, and a speed of 100 points. Nexus has a health level of 2000, and a speed of 90, its primary skill is Sword Slash, and the ultimate skill of Rocket Barrage. Sirion has a Health score of 1500, and a speed of 100, his primary skill is Mini Orb, his passive skill is Mind Strength, and his ultimate skill is Mass Abduction. Choose your hero that suits your gaming style and strategy to reach Mob Control max level.
Cannons
You will gradually unlock seven cannons in Mob Control app.
Regular Cannon: It is simple and trustworthy. It shoots the mobs one by one and generates 2.6 mob per second.
Rapid Fire: It is a super-fast repetition cannon with a capacity of 3.0 mob per second.
Shotgun: You can shoot first and aim later with this cannon. Mob per second capability of 3.42.
Lucky Shot: It shoots a varying number of mobs having the capability of 4.14 mob per second.
Big Bertha: It shoots mobs so big that they almost look like giants. Have the capability of 0.90 mob per second.
Double: Two simple cannons are glued together to make them more effective at 3.50 mob per second.
Main Features: Mob Control Mod APK Unlimited Money
Mob Control Mod APK Unlocked All
Mob Control Mod APK No Ads
Unlimited Everything
Unlocked Everything
Mob Control Mod APK Free Shopping
No Ads
Conclusion
Mob Control download will enable you to enjoy the amazing benefits of this mod. Use these free features to make it to the top position amongst game players. Enjoy one of the simplest gameplays that are available on the Play Store. Collect special cards after every win to unlock rewards. So, grab Mob Control Mod APK (Free rewards) for Android.