The Peons stand in total agony as they watch their kingdom being completely destroyed. You must help to rebuild the castles. Your task is to fix the castle and build all 5 levels of each castle to get rewards. Roll the dice on the board to grab plenty of items and features. So, build the kingdoms by downloading Dice Dreams Mod APK.
The Gameplay: Dice Dreams Mod APK
Please remember that you build the castles in your kingdom, you must have ample coins. So, roll the dice to win coins. You will be rolling three dice and if three of them match, you will get nice rewards. If you got question marks on all dice, you would get a card. Similarly, if you get three shields on the dice, a shield will add to your inventory. The purpose of the shield is to block attacks. So, enjoy one of the best board games.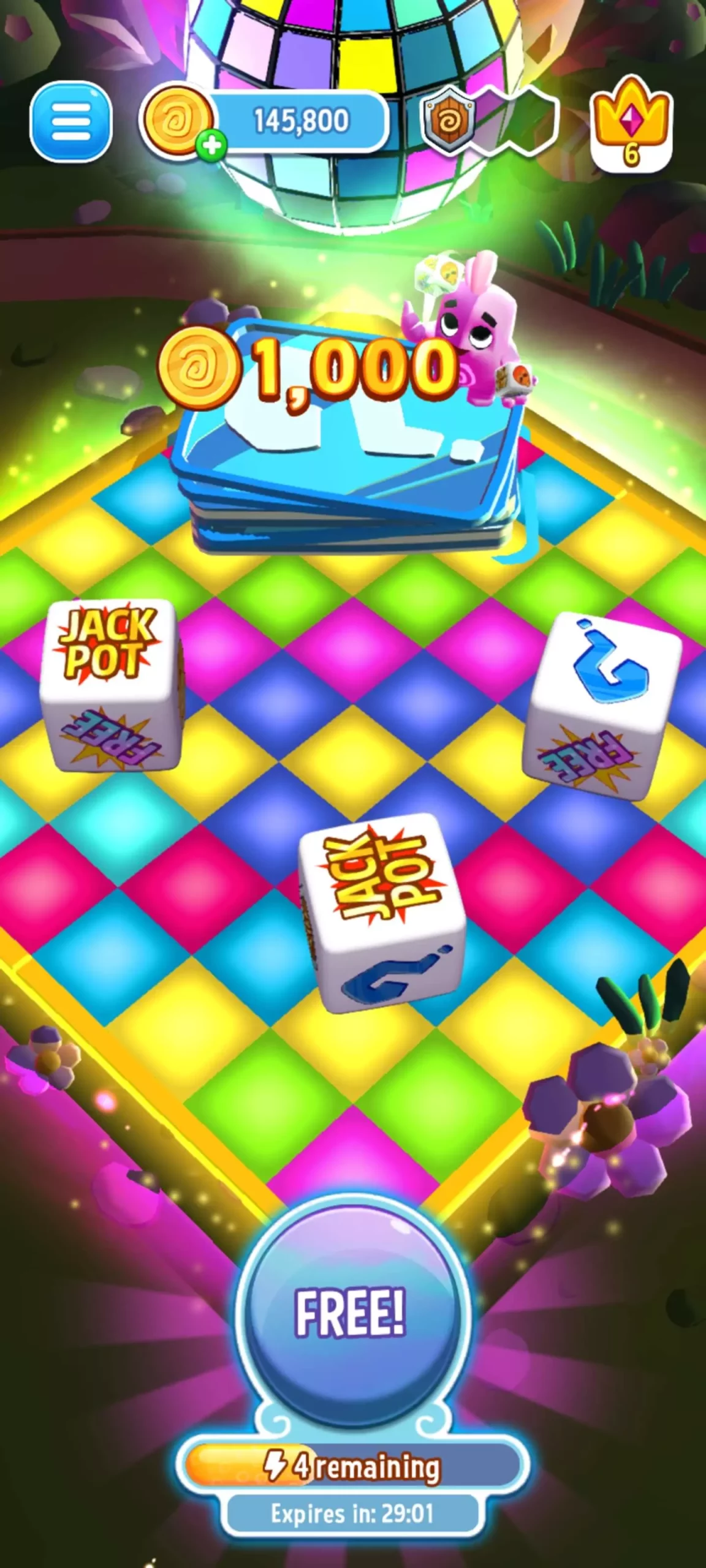 Steal the Coins
You can also roll on other player's boards to steal their coins. Make sure to not hit the bomb otherwise, the game will be over. Besides this, you can also use the attack cards to attack another player. Select the building to attack and gain coins. Each building contains a different number of coins.
Complete Castles
Complete the castle to get more rolls and continue your game. If you run out of the rolls, start completing the buildings to get more rolls. You must wait for a specific time if you are out of rolls and do not have ample coins. Complete all buildings to move to the next building. Use the Dice Dreams cheats to complete the castles quickly.
Amusing Maps
There are 227 maps in Dice Dreams APK to offer you a storyboard full of fun and enjoyment. The maps start from Royal Beginning, Frozen Kingdom, and Desert Dreams and finish at Spooky Street. You can enjoy maps like Candy Court, Mythic Islands, Western Frontier, Jade Mountain, Bounty Bay, New Roll City, Holiday Night Dream, and many more.
Grab Crowns
You will get the crowns by completing building your kingdom. You will get a crown for completing each level of your building. Collection of stickers will also give the crowns. Your rank will improve as you gain more crowns. Use these crowns to upgrade the cards that you have collected. Please note that higher number of crowns is directly proportional to your rewards.
Collect Cards
The cards will equip you with certain capabilities to gain more coins and rewards. You will unlock the cards during your game by rolling the dice. Use these powerful cards to get coins, rolls, attack, and steal. The number of coins will increase as you move to the next card level. For the attack and steal cards, the reward bonus will increase by leveling up the card. Similarly, the number of rolls will also go up as you move up the level.
Compete in Tournaments
Compete against the top players of the world, compete in tournaments that are full of excitement. Tournament points are a pre-requisite to play in tournaments. You will be split in groups to play against each other. Winning will let you achieve top position on the leaderboard. The leaderboard shows top players within your friends' circle, your country, and global ranking.
Main Game Features
Invite and play with your friends to unlock all kingdoms
Use your social platforms to play with other players around the world
Become a Dice Dream King by stealing the coins from the board of other players
Use the cards effectively to move up the levels quickly
Use the slingshot to attack other players and try to get maximum benefits
Enjoy epic adventures with your dice and build your empire
Main Features: Dice Dreams Mod APK
Unlimited Rolls
Without the availability of ample rolls, you will not be able to play and enjoy the game to its full potential. You have a limited number of rolls and must wait about an hour to get a few rolls. So, use this mod to have an unlimited supply of rolls to rock and roll. Our Dice Dreams free rolls hack is a game changer.
Unlimited Coins
The coins are the main game currency in the game. You will get the coins by rolling, leveling up, playing with friends, and completing the kingdoms. But, with Dice Dream Mod Menu APK, you will get unlimited Dice Dreams free coins to aid you in completing all 227 levels. Use your coins to make purchases from the shop menu. Try Ludo Star MOD APK for unlimited benefits.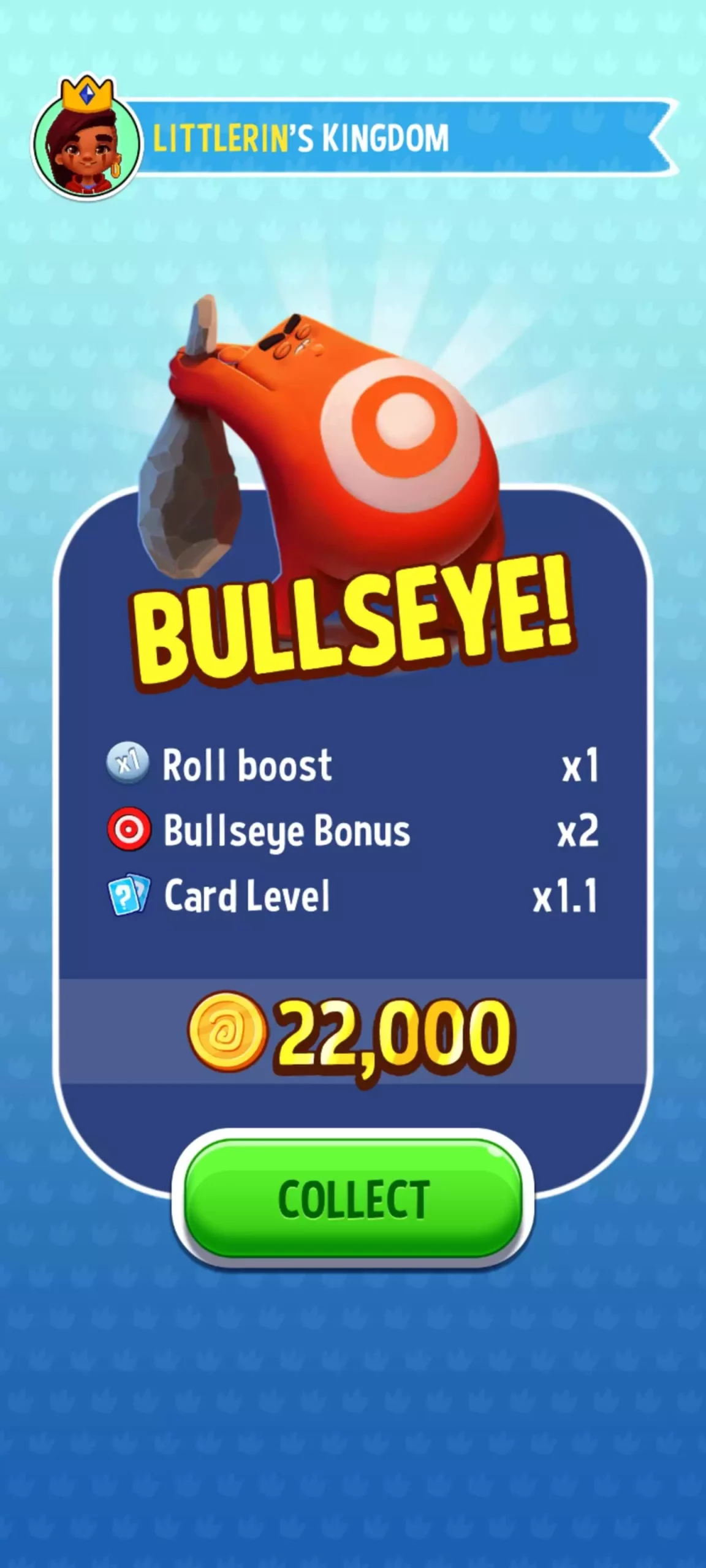 FAQs
What is the usage of dice in the game?
Dice are the main component of Dice Dreams. You will get three dice to roll; each has different shapes printed on them. Matching the shapes on dice will give you super rewards.
Is there any multiplayer gameplay option in the Dice Dreams game?
Yes, this game has multiplayer functionality to let you enjoy the game with your friends and other players.
Conclusion
With vibrant gameplay, colorful graphics, and lively sounds, this game combines fun, excitement, and thrill. So, roll the dice and leave the rest to your luck. Do not wait long to download the Dice Dreams Mod APK to become a Dice Dream King. Integration of famous social platforms will further make the game more interesting. Play with your friends and players worldwide, join teams, and compete in tournaments to earn coins and dominate the leaderboards.