With more than a hundred million downloads Dude Theft Wars: Offline games has impressed the players around the world. This game is based on the concept of a funny physics game that offers you both online and offline modes to play. It is one of the best relaxing ragdoll games. This endless sandbox fun game has all features that will keep you playing this game for quite a long. So, download Dude Theft Wars Mod APK to begin the adventure with fun.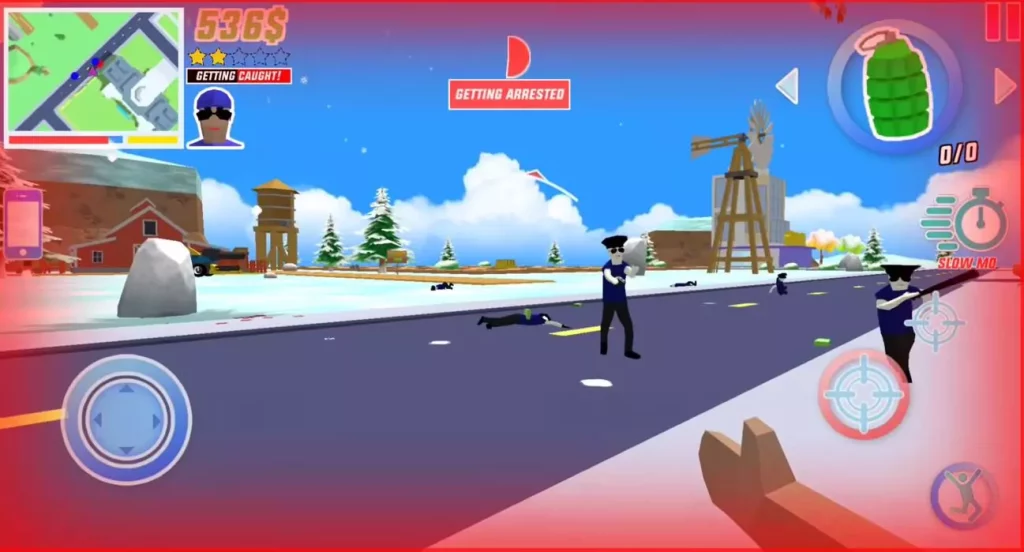 The Gameplay: Dude Theft Wars Mod APK
There are two modes in the game i.e., Single Player Mode and Multiplayer Mode. Under multiplayer mode, you will get three gaming options. These are Free for All, Gang Wars, and SandBox (Coming Soon). You can choose from any of the five regions. The regions are the USA, Europe, Asia, Russia, and India. Keep playing and winning the game to become a top player.
Relevant Mod: Wild Blood Mod APK
Weapon Store
Weapon Store is one of the most important sections of the game. This store is divided into Guns, Greenades, and Melee. Guns are further divided into primary and secondary guns.
Primary Guns
Primary guns section has AK-57, Duzi, Shot Gun, Dessert Sniper, SMG 4, Assault Rifle, Scar L, Sniper 8x, P-90, and TEC-9.
Secondary Guns
This section has Pistol, Banana Pewstol, Revolver, and Rocket Launcher.
Greenades
Greenades include Disco Bomb and Greenades.
Melee
From Melee you can pick Slap or Jack's Bat.
Online Multiplayer Game
To make the gaming experience more memorable, you can play with your friends. Pick up the best guns and enjoy the funny dances. You will be killing people with guns of your choice and even you use grenades to make more destruction. There is an option of stealing different things and then selling them.
Action-Packed Maps
The game offers you maps that are full of furious action. You can choose between the NoobTown map which encompasses quick action games and the JackStreet map gives you cool open-world war games fun. Explore each map to its full extent to enjoy the game. You will enjoy using One Gun Stickman Mod APK.
Unlock Weapons and Characters
As this game demands intense fights, so you need to have the best guns & weapons. During your journey through the game, you can unlock new characters items, and weapons. You can use these new and deadly weapons in both modes. Try to collect the weapons at a faster pace to become stronger and invincible.
Do Whatever You Like
Dude Theft Wars Mod APK offers you to play the game without any limits. Act like a true monster who is not bound by any rules. You can even drive the cars and fly the planes in the city. You can use the bike to take a ride or use a helicopter to have an ariel view of the city. Drive as fast as possible when the police are chasing you and make an escape.
Main Game Features
Free open world game
Amazing multiplayer game modes to enjoy
Best FPS shooting gameplay
Supreme ragdoll games physics
Classic sandbox driving simulator
Rewarding secrets and cheats to outplay others
Exciting storyboard
Core Features of Dude Theft Wars Mod APK
Dude Theft Wars Mod APK Unlimited Money
All Weapons Unlocked
Character Items Unlocked
Dude Theft Wars Mod APK Free Shopping
Ads Free
Root Free
FAQs
How do you make sure that this mod is safe for the users?
All our available mods are tried and tested. You can use them without any doubt or fear.
Is there any age restriction to play this game?
Yes, this game is rated for 16+ as it contains strong violence and thus may be inappropriate for the kids.
How much space will this game capture on my device?
The size of the game is not that large. The game will take a space of 199 MB on your device.
Conclusion
Action game lovers will surely love Dude Theft Wars Mod APK. Make a crime and let the police chase you. Use your mobility resources wisely to make dodge them with ease. There is nothing to worry about if you get caught and arrested. You can just pay the fine and again join the action in the city. So, grab the game now and indulge yourself in an extreme action-packed game.