Puzzle Quest 3 – Match 3 RPG offers great gameplay, a brilliant combination of puzzle and role-playing games. Match the colors to launch an attack on the bosses and defeat them. Meticulous quests are waiting for your analytical skills. You must deal with the monsters through a collection of unique heroes and powers. Enjoy fantastic stories that will keep your interest alive in the game. Download the latest version of Puzzle Quest 3 Mod APK for features that will take you to the top of the leaderboard rankings.
The Gameplay: Puzzle Quest 3 Mod APK
You will witness a unique and interesting gameplay in Puzzle Quest 3. Go all out against your tough enemy and collect valuable loot from them. Besides that, unlock epic gears to become a real champion of the game. Keep solving the puzzles and beating your enemies to become a legend in this game.
Match-3 Puzzles
In this game, you must match multiple gems and skulls of the same colors to proceed. Successful matches will let you get the best combos. You can match 3 or more gems up, down, left, right, and diagonally. Matching 4 or more gems will give you a Big Gem, ultimately leading to extra mana. You will also love features of Mighty DOOM Mod APK.
Matching 5 or more gems will give you an extra Action Point that you can use on your next turn. Three action points are available for every turn. You can use these action points to match gems. Your enemies will match gems and attack or cast a spell at every turn. Destroying skulls causes physical attacks, thus damaging the armor of your enemy.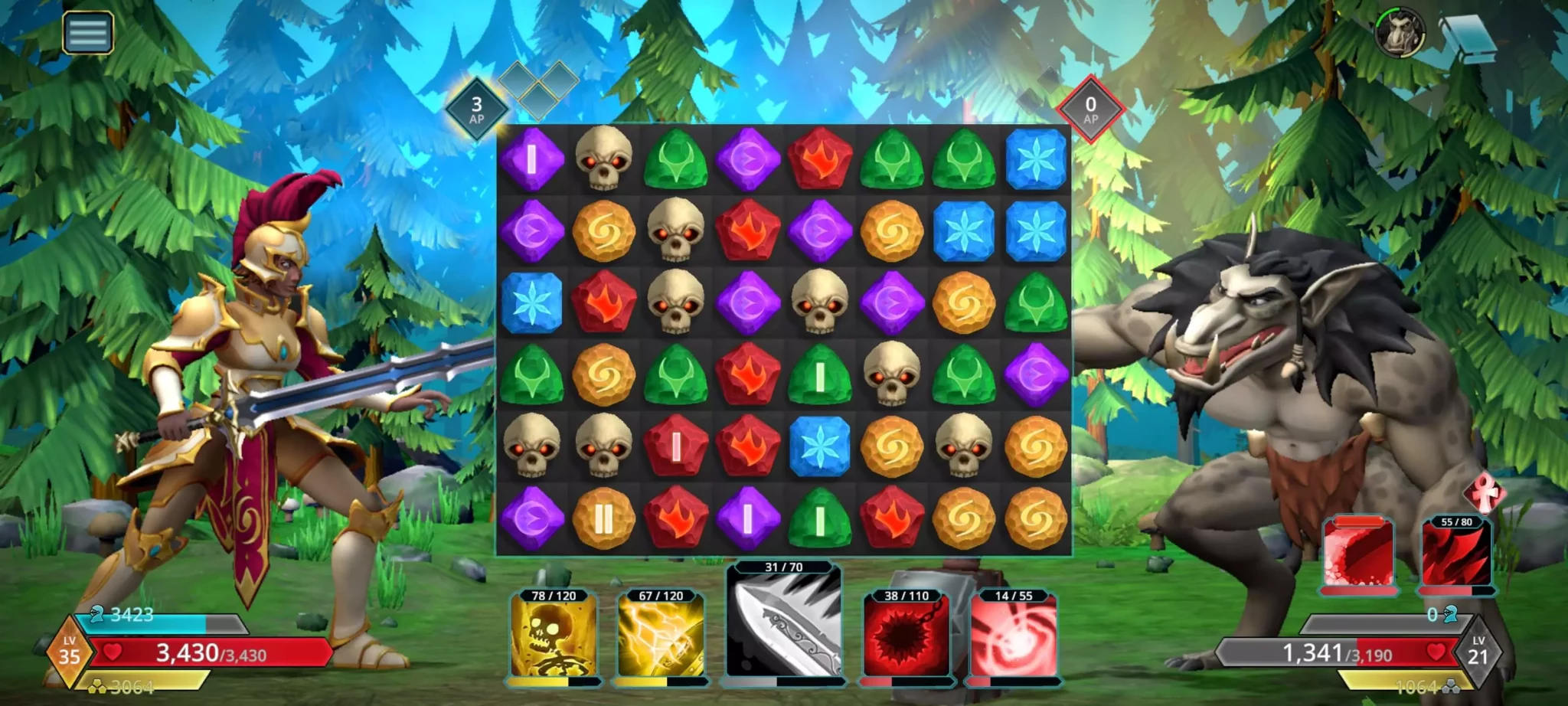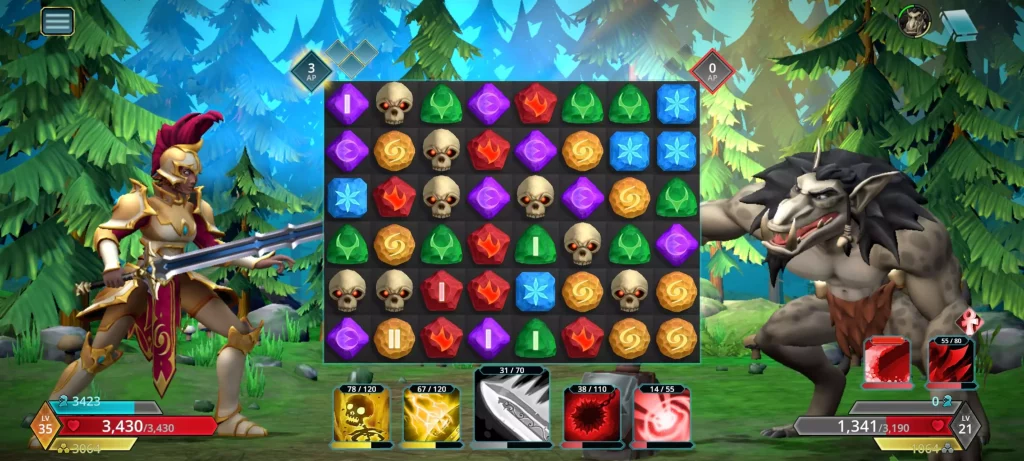 Spells
The Spells will absorb the mana from matched gems. You must get more and bigger gems to get more mana. Please note that you can cast any charged spells anytime on your turn without using the Action Points. Besides that, some Etherians have the power to channel elemental mana from the gems into powerful spells. Download Disney Mirrorverse Mod APK
Hero Stats
The power of your hero is based on Primary Stats, Offense Stats, Defense Stats, Utility Stats, and Masteries. The Primary Stats encompass Damage, Armor, Resistance, and Block. Offense Stats has five parameters, i.e., Critical Hit Chance, Critical Hit Damage Bonus, Elite Damage Bonus, Ice Damage Bonus, and Poison Damage Bonus.
The Defense Stats show you stats on Block Chance, Block Damage Reduction, Elite Damage Protection, Ice Damage Resistance, and Poison Damage Resistance. The Utility Stats covers Ice Starting Mana, Poison Starting Mana, Fire Starting Mana, Light Starting Mana, and Dark Starting Mana. Lastly, five Masteries include Ice Mastery, Poison Mastery, Fire Mastery, Light Mastery, and Dark Mastery. Install Garena Blockman Go Mod APK to enjoy ultimate sandbox game.
Main Features: Puzzle Quest 3 Mod APK
As you progress through the game, you will fight against various tough enemies, each with unique abilities and weaknesses. Their powers will increase as they move up the stages. Analytical skills are the key as you carefully plan your moves to maximize the impact of your attacks and minimize the damage your enemy may cause. But you must use the mod features to progress faster.
Unlimited Resources
You will not have to worry about getting short of gems and coins. Your progress will not be hindered due to the unavailability of gems. This amazing mod is full of unlimited game resources. So go ahead, equip yourself with the best gear, and strut into battle like the champ you are. With each victory, you will get valuable rewards and progress further in your quest to become the ultimate puzzle master.
God Mode
The God Mode will ensure to turn you into an invincible warrior. Forget about losing your health or getting knocked out in battle. With the support of God Mode, you will become a superhero in a cape, pave your way through levels, and smash enemies with a forceful attack.
Unlimited Mana
Mana is the lifeline for your hero and is of utmost importance for his survival. Running out of it is like stopping the oxygen supply to a person. But hold your horses. This mod offers unlimited mana, letting you unleash a barrage of spells to make you the best. Enjoy an endless combination of magical powers.
No Ads
Every player doesn't feel comfortable when annoying ads appear during the game. This modded version has you covered. You can play uninterrupted without a single ad to ruin your momentum.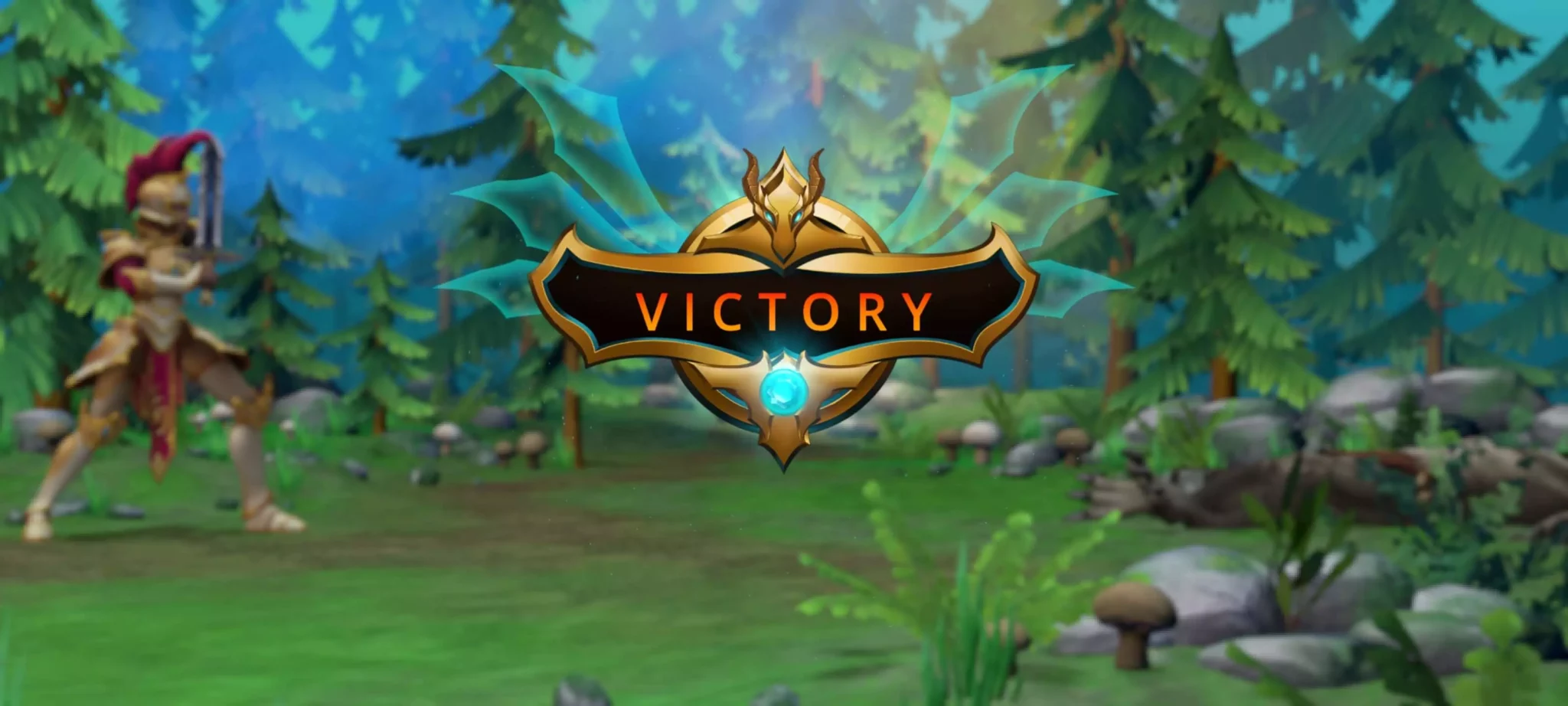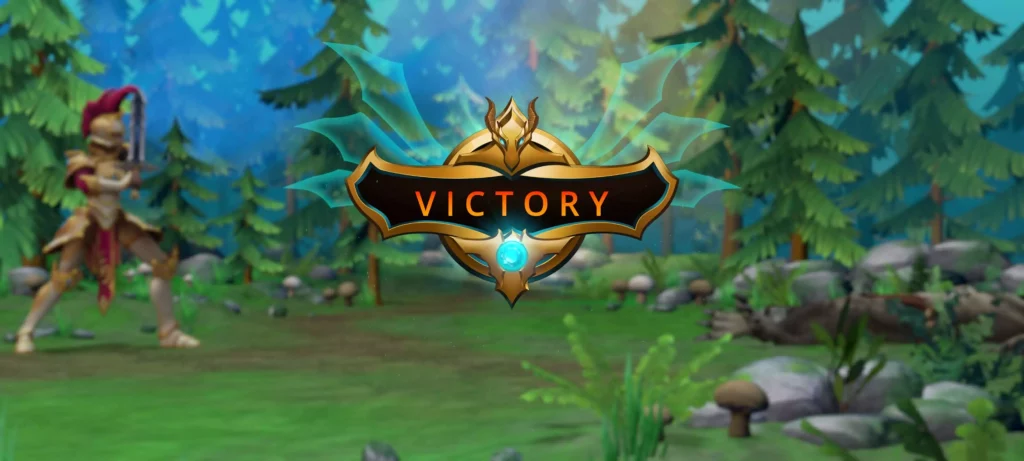 FAQs
Why should I choose your site for downloading Puzzle Quest 3 Mod?
Irrespective of which platform you are downloading the mod, always ensure to get the mod from a safe site. We will provide you with threat-free mods that are also updated regularly.
Why should I choose your site for downloading Puzzle Quest 3 Mod?
Irrespective of which platform you are downloading the mod, always ensure to get the mod from a safe site. We will provide you threat threat-free mods that are also updated regularly.
What are the noteworthy features of Puzzle Quest 3 Mod?
There are several features this mod has to offer. You will unlock all hero powers and the rest of the premium game features.
Conclusion
Puzzle Quest 3 offers the players more enhanced features and storyboard amendments to provide enriched gameplay. You will enjoy the captivating world of the game as the challenges and strategies will go hand in hand. Puzzle Quest 3 Mod APK will redefine the game for your heroes by unlocking all premium features of the game for free. So, start an exciting journey to showcase your strategic intent and rule the Puzzle Quest world.