You must get Rodeo Stampede: Sky Zoo Safari game if you love animal life. With simplistic game graphics, this game offers sensational gameplay. Indulge yourself into a world of new lands, cool animals, and sky zoos. You will enjoy the essence of three types of game genres: wild animal games, running games, and cowboy games. Witness versatility at its best by downloading the latest version of Rodeo Stampede Mod APK.
The Gameplay: Rodeo Stampede Mod APK
Keep yourself entertained through one of the most captivating gameplays ever. Act as a courageous cowboy who has the guts to face any challenge. Keep taming the wild animals to put your picture of victory in your album. Enjoy engaging gameplay by installing Bowmasters Mod APK.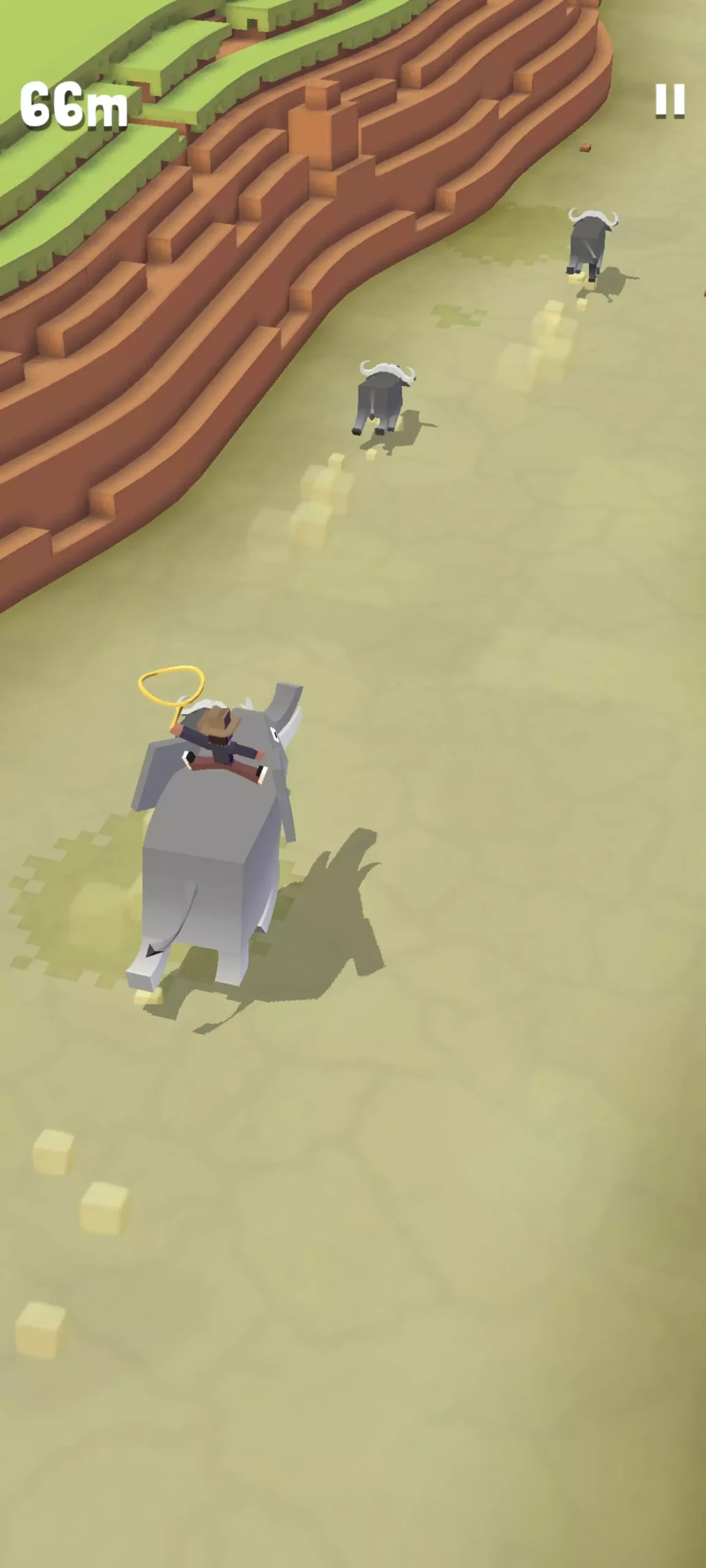 Create a Zoo
Make a zoo with an amazing collection of animals. To earn money, open the zoo for the visitors. Keep collecting rare animals to deploy them in your zoo. Earn coins by taming and riding on the animals. Always try to capture the largest of animals from the start. This will let you capture more animals and upscale your zoo quickly.
Unlock captivating zones in Rodeo Stampede as you progress in the game. Experience the game like never before with a great map collection and let your hunger to capture animals in the most extraordinary way imaginable. There are three types of Zoos in the game. These are Sky Zoo, Space Zoo, and Ocean Zoo.
Sky Zoo
The Sky Zoo encompasses the animals from five zones, i.e., Savannah, Jungle, Mountains, Outback, and Tundra. You will unlock the Savannah zone when you tame your first buffalo. Reach Junge 1 to unlock the Jungle zone. You will unlock the Mountains zone when you reach Mountains 1. Upgrade your ship to Outback 1 and unlock the Outback zone. Lastly, upgrade to Tundra 1 to unlock the Tundra zone.
Space Zoo
Unlock the Space Zoo by upgrading the Sky Zoo to Jungle 3. It has four zones. These are Jurassic, Olympus, Garden, and Great Wall. You can unlock Jurassic at Jungle 3, Olympus at Mountain 3, Garden at Outback 3, and Great Wall at Tundra 3.
Ocean Zoo
You will unlock the Ocean Zoo when your Sky Zoo reaches Savannah 4. The Ocean is the only zone in Ocean Zoo. Please note that being the last zone to unlock, it is the toughest of all zones. The hindrances are more than in other zones, and animals are also difficult to catch.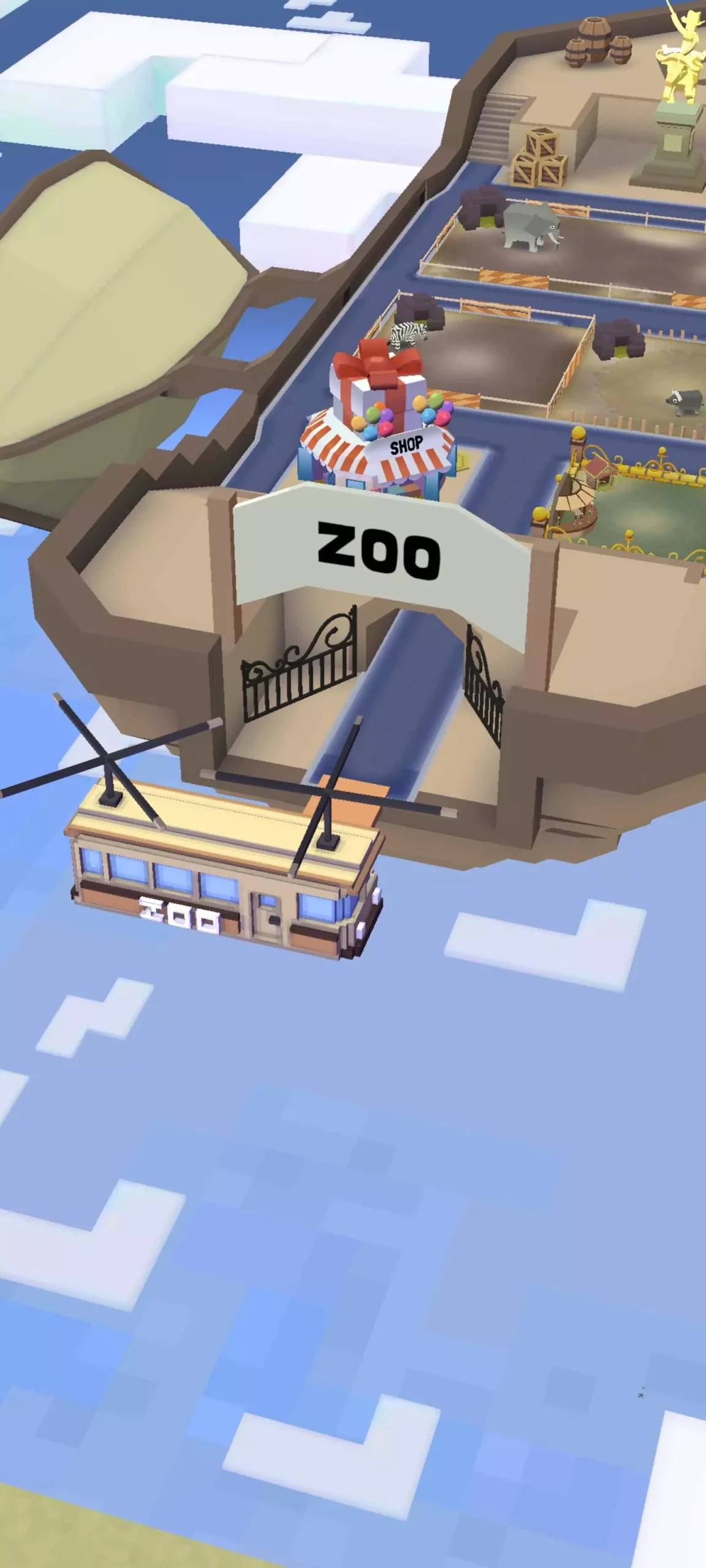 Customize Your Character
You can customize your block-based character in many ways. First, choose the gender of your character. Put a hat on his head and change the color of his skin. So, give your character a look of choice to make the game more interesting.
Collect Coins
You will get the coins by completing the missions and challenges. The zoo will also be your main source of getting the coins. Besides that, you can collect the coins by watching ad videos. Please keep in mind that watching ads will enable you to get double coons. Always ensure to stay for a long time on the map to earn more coins.
Intuitive Controls
The game controls are as simple as the game graphics. Although you may face some difficulties at the start, with time, you will get accustomed to them. The controls are all about push and release. Push the release button to come in the circle of another animal and then push the button to get them. The loop will go on until you make a wrong move. You will cherish the lasso game mechanics.
Pre-Requisites for Rodeo Stampede
There are certain prerequisites that you must fulfill to play the game. Two types of access authorization are available for you. One is a must, and the second is optional. The must-have authorization is giving access to the device storage and screen recording. The screen recording feature will allow the game to post videos on social media.
The optional authorization is phone-related and is not mandatory. This is related to in-game prizes, operating systems, and devices to provide better customer service. This optional access option will impact your gameplay in any way.
Main Features: Rodeo Stampede Mod APK VIP Unlocked
Unlimited Coins
This problem-solving mod will let you have free access to the main game currency. Use these unlimited coins to unclose all in-game items and features without hard effort. Make full use of the coins to upscale your game to the next level. Unlock all animals in Rodeo Stampede. Enjoy free shopping.
Unlimited Everything
The Rodeo Stampede Mod is here to make it happen. Get ready to dive into a world of unlimited fun and excitement without any extra costs. With this mod, you can unlock a treasure trove of premium items and features. Last but not least, you can tame every animal, personalize your sky zoo, and explore any map you fancy. This mod is a world of endless opportunities waiting for you to enjoy. Earn unlimited gems through Incredible Jack Mod APK.
Ad-Free Gameplay
Rodeo Stampede APK ensures an uninterrupted gaming experience by removing disruptive advertisements that often create hindrances during your gameplay flow. With a smooth and ad-free interface, players can fully engage themselves in the captivating world of Rodeo Stampede without any distractions. A more enjoyable and satisfying gaming journey awaits you.
Conclusion
The Rodeo Stampede game offers you an ample quantity of activities to perform. You can opt to tame the animals, manage your sky zoo, and assume the role of a cowboy. Pick up your lasso to get hold of even the mightiest animals. The storyboard of this game is all set to provide you with a challenging yet full-of-action game. By providing unlimited resources, exclusive unlocks, and an ad-free interface, Rodeo Stampede Mod APK offers a great bunch of benefits.