Jurassic Monster World: Dinosaur War 3D FPS offers a great action shooting storyboard. Run through the post-apocalyptic world, where you will fight against the monsters covered with metal. This 5×5 PvP shooting sensation offers several game modes to attract your attention. Jurassic Monster World Mod APK will let you compete with powerful dinosaurs through formidable features.
The Gameplay: Jurassic Monster World Mod APK
Start your journey in the pursuit of ultimate victory by taming the dinosaurs. Each dinosaur has its own unique capabilities, like flying over the hindrances. You will get dinosaurs who are equipped with rocket launchers. Aim the target and press the Fire button. You can also activate the smart fire option from settings. The riders control dinosaurs, so more riders mean you can use them to get more dinosaurs in battles. Race against time in Subway Surfers Mod APK.
Unlock Dinosaurs
There are a total of 49 dinosaurs available for you. The dinosaurs are placed in two separate tabs. These are Owned and Not Owned. The Owned tab has 13 dinosaurs. You can unlock the owned dinosaurs by paying money or reaching a specific level. Use the mod features to get them for free. Assume the role of a daring dinosaur rider who can tame and command a variety of unique and fearsome dinosaurs.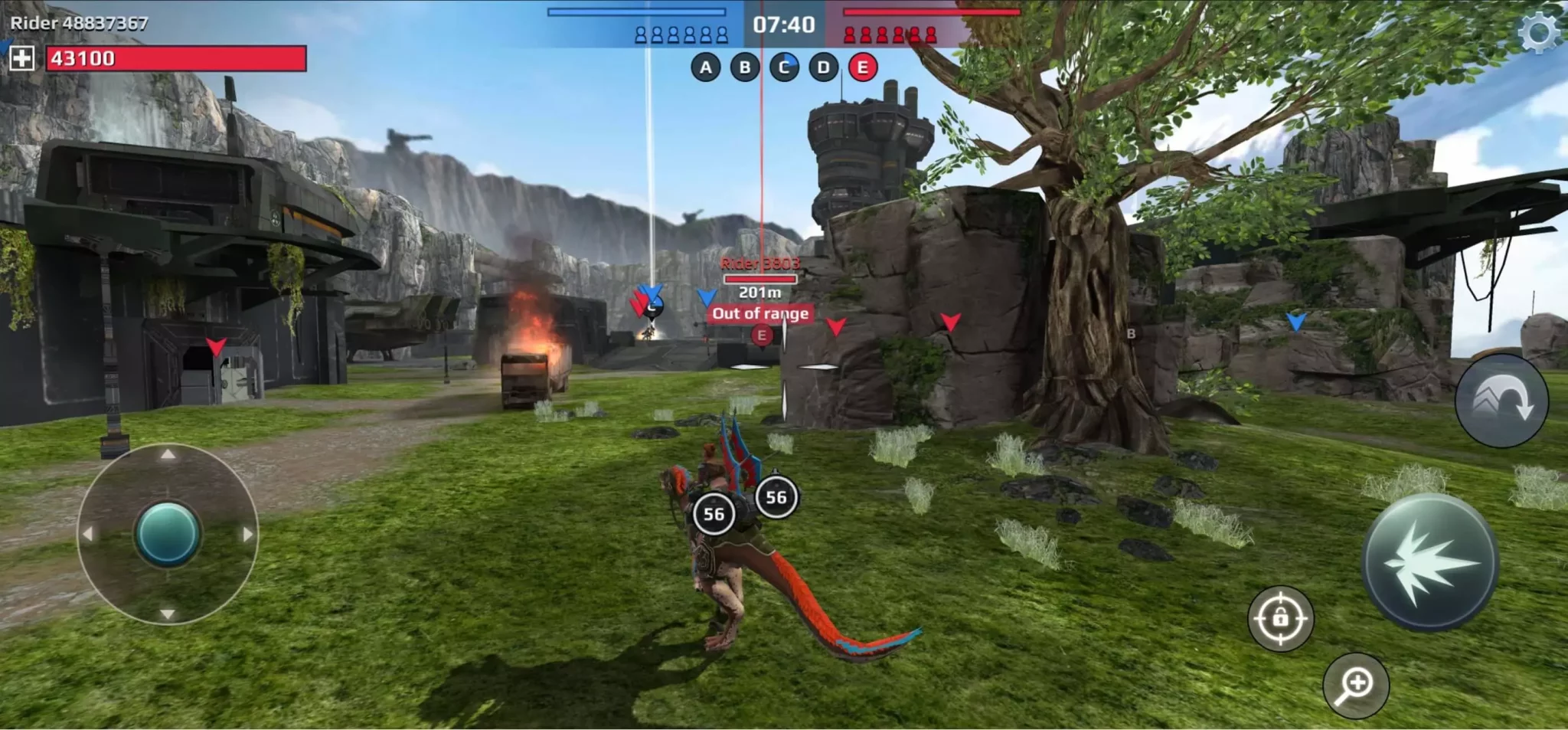 In the Not Owned tab, there are 36 dinosaurs. These dinosaurs in the game start from the Velociraptor, Dilophosaurus, and Pterodactylus to Allosaurus and Pentaceratops. Their powers are measured on the basis of HP, Physical Shield, Speed, Vampirism, Poisoning, and Damage. You need the Spores to get dinosaurs. Spores are grown in the incubator. You can unlock an incubator at level 5.
Epic Battles
Prepare for epic battles as you take your powerful dinosaurs into fights against giant AI opponents. The game provides a staggering battle experience and enhanced graphics and animations. You will witness a thrilling spectacle. Strategize your attacks, utilize the unique abilities of your dinosaurs, and emerge victorious in the arena.
Dinosaurs Types
The game has three dinosaur types for the players. These are Full Metal, Organic, and Augmented.
Full Metal
These powerful machines rank among the strongest, easily dismantling even the strongest opponents. They are equipped with shields for protection from offensive strikes. Within this group, the Tyrannosaurus stands out as the most powerful dino, showcasing lethal prowess and overwhelming characteristics.
Organic
These Spinosaurus have special capabilities of agile movement and strength. Their agility is high due to their jumping ability. They can shock any enemy owing to high-power attacks and jumps. Attack zombies in Dead Trigger 2 MOD APK.
Augmented
If you love the human touch in AI-powered machines, then "Augmented" is the best option for you. Human intelligence in combination with hi-tech, will make a deadly combo. Triceratops can pose a great threat to any opponent and have the ability to restore their health.
Main Features: Jurassic Monster World Mod APK
Unlimited D-Crystals
The game has three types of currencies i.e., Crystals, Fuel, and Spores. Crystals are the main currency that you will get through by winning the battles and by watching ads. But with this mod, you will get the crystals for free. Use these crystals to get more riders.
All Dinosaurs Unlocked
Get all dinosaurs available in the game from the start. This will let you attack any opponent without any apprehension of losing the fight. You will always stay ahead of your opponent and beat them quickly. Make game advancement at a faster pace and enjoy the availability of all dinosaurs.
All Weapons Unlocked
Equip your dinosaurs with exceptional weapons and gears to uplift their performance in the fighting arena. This mod will unlock every available weapon for you without any cost. You can explore the in-game shop menu to check your collection of weapons.
Unlimited Everything
With unlimited everything and free shopping features, you will gain a head start over the most powerful dinos. Gain access to an unlimited number of in-game resources like crystals, dinos, weapons, and much more. Collect all dinosaurs, upgrade them, and focus on your battles without any resource shortage. Unlock all paid features through Transformers Rescue Bots Mod APK.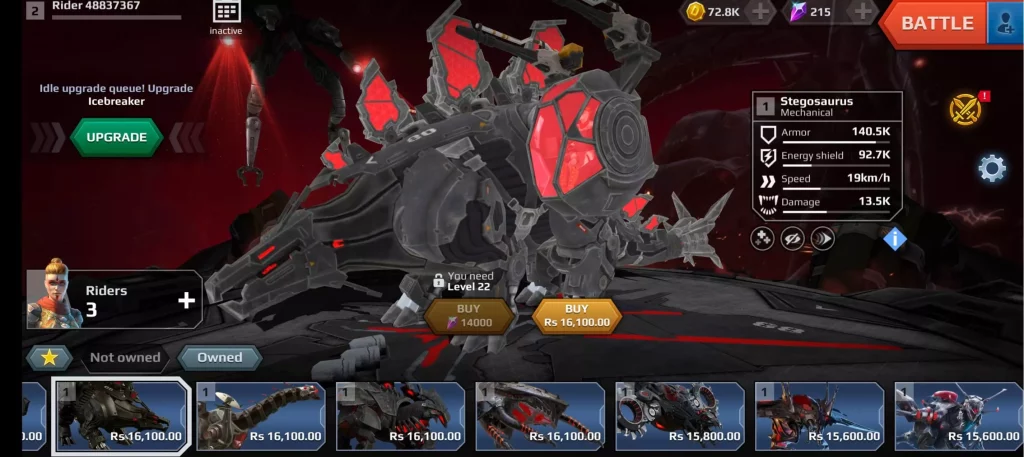 FAQs
What is a Jurassic Monster World Game Mod?
The JMW Dino War Mod is an alteration to the original game. You will get all unlocked features, like unlimited D-crystals and free game resources that are not available in the official game.
How do I install the Jurassic Monster Mod on my device?
Installation of this Jurassic Monster World Mod will only take a few simple steps.
First, get your device ready by enabling the installation of applications that are out of official app stores
Get hold of the mod from the top of this page link
Install the APK file on your mobile by following simple procedure
Now, launch the modded version and enjoy the features
What are the unique features that encompass this mod?
The mod features are awesome enough to make you a champion of the dino arena. These features are unlimited crystals and unlocked dinos.
Conclusion
The thrill and allure of these metal hunters will let you win the battles in an arena where survival of the fittest principle rules. With ever-evolving gameplay, game graphics, and free game resources, you will get an unforgettable gaming experience. Control and train monstrous dinosaurs and engage in epic battles. Downloading the Jurassic Monster World Mod APK will satisfy your inner passion for dino games and will aid you in conquering the Jurassic Monster World.