Flying aircraft will always be of great attraction for most people. You must download Sky Combat Fighter Jet Games to fulfill your desire to become a pilot. Sky Combat is the best air force game that offers you an epic experience of fighting in the sky. This game will let you take control of the most modern fighter planes to beat your opponents. Turn the sky into a PvP dogfight arena. Keep yourself focused on your missions by staying put all the time. To add an amazing spice to your game, get hold of the Sky Combat Mod APK latest version.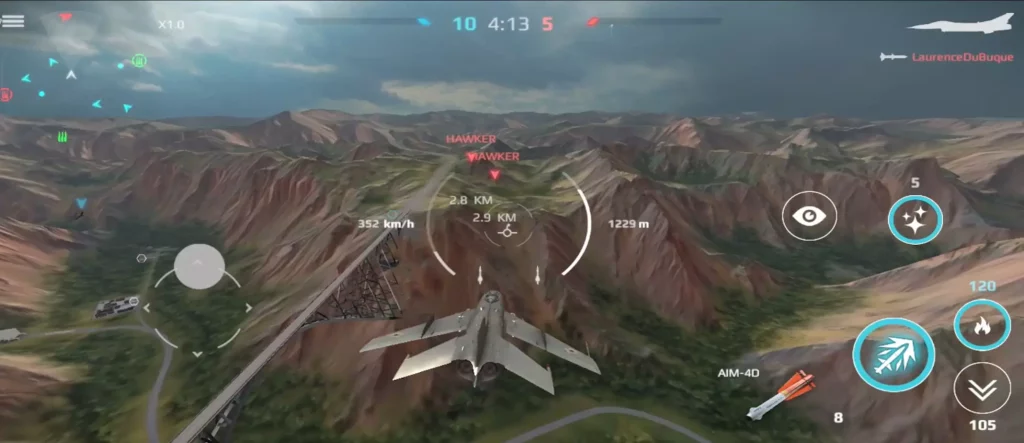 The Gameplay: Sky Combat Mod APK
You may have been playing the games for the past many years. But you will love to witness the vibrant gameplay of this fighting game. You will cherish owning and flying an aircraft loaded with ammunition. The raging sounds of aircraft will give you goosebumps. There are many airplane classes to choose from i.e., fighter jets, bombers, and attack helicopters. Upon starting the game, you need to select the control type. There are two control types, a virtual joystick and a gyroscope.
Relevant Mod: Hills of Steel Mod APK
Fly Your Warplane
Make effective use of the game controls to shoot down your enemy. Don't forget to claim your training rewards in credits, gold, and basic container. Unlock new planes for yourself and buy ammunition like rockets for your aircraft. The aircraft can be equipped with different weapons to make high damage to your targets. You will get XP rewards by completing the missions. The container will get you an extra reward as well. The game has three types of containers: a Basic Container, a Premium Container, and a Legendary Container.
Upgrade Your Aircraft
Upgrading your aircraft's armor will let it sustain the damage. You can upgrade your aircraft's Hitpoints, Fuel, Engine, Damage, Range, Speed, Reload Time, and Radar System. Your aircraft will be gauged on four parameters i.e., Durability, Speed, Fuel Efficiency, and Mass. There are 17 planes to choose from. These aircraft will unlock on reaching specific levels. For instance, F-4 Phantom unlocks at level 20, F/A-18E Super Hornet will be unlocked at level 40, and Su-57 Felon gets unlocked at level 50.
Online PvP Shooter Game
In Sky Combat: Fighter Jet Games, you fly your planes to several locations and against tough enemies. You must destroy all enemies' bases and planes that come into contact with you. There is also a PvP mode where you can compete against other players. After choosing a plane, you'll then enter the skies. As you leave the ground, you'll encounter different enemy aircraft. Your aim is to shoot them down before they reach you. You will earn points and rewards by eliminating your enemies. Check out some amazing features of Ramboat 2 Mod APK.
Amazing 3D Graphics
Sky Combat developers have made an incredible effort to make the game graphics a real piece of art. The way this game looks is one of the key things players love the most. This game will bring planes and wars to life owing to realistic graphics and sounds. Fly through the air and look in all directions to attack your enemy and safeguard yourself from their attack. You cannot remain unnoticed by the vibrant and full-of-life graphics. Enjoy the movement of real-life aircraft and their actions in the sky. They will show up on your screen as they would in reality.
Unique Maps and Locations
Gain access to five amazing maps of the game. Each map will have something unique for the players so try to unlock them at the earliest. The maps will infuse some interesting challenges. For example, you will fight off enemy ships to avoid retaliation.
Beat Your Opponents
Sky Combat is a great air-to-air and air-to-ground shooting strategy game that will let you compete against players around the globe. Your ultimate objective is to destroy enemy planes but be aware they will also give you a tough time. So, always try to take the first mover advantage by placing yourself at a place of advantage. All battles happen simultaneously, and players aim to defeat their opponents quickly.
What is the Best Aircraft in Sky Combat Game?
Su-57 Felon is the best warplane, till now, in the Sky Combat game. This amazing war machine has a durability level of 2,200, a speed of 1,350 km/h, fuel at 300, and a mass of 14,758 kg. This can carry armor that automatically follows the target. Besides this, it is equally best for air and ground targets. You will also gain valuable insights via our Sky Combat ace reviews. You will love to use Geometry Dash Mod APK.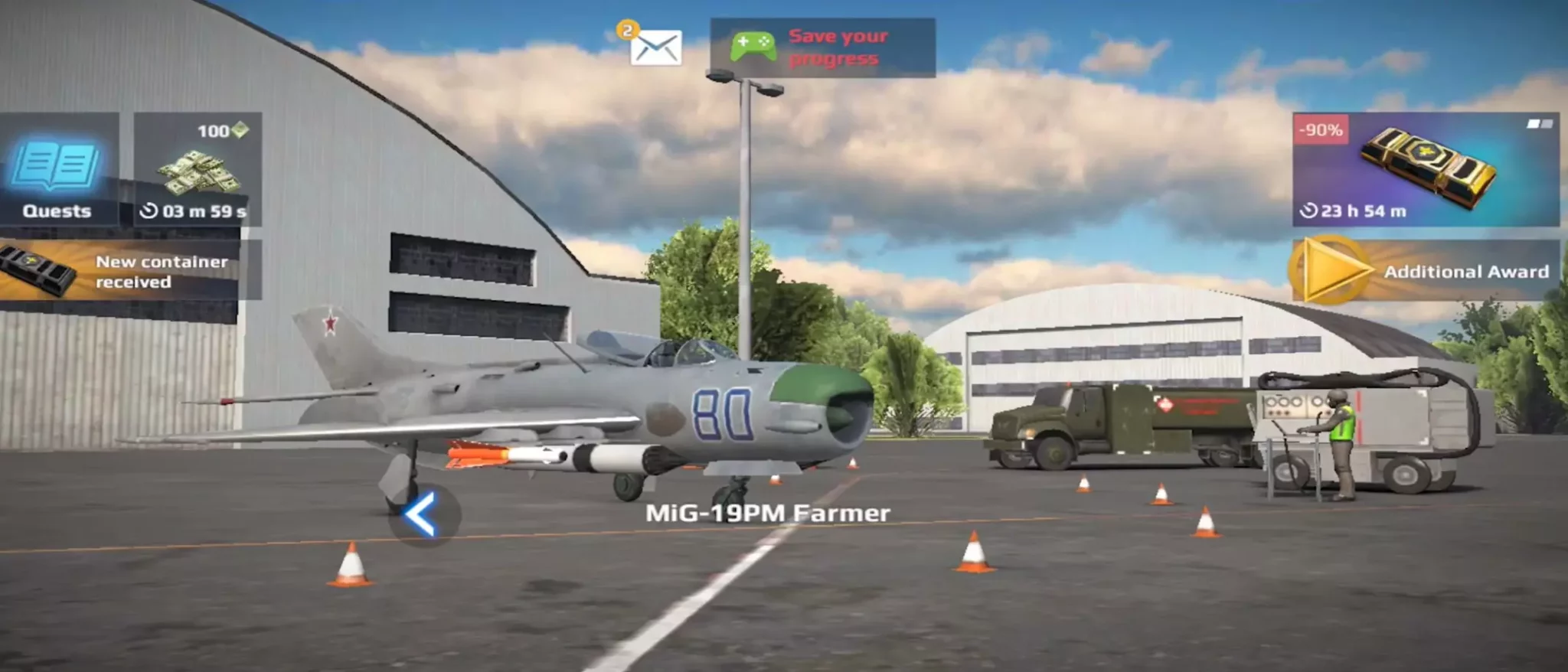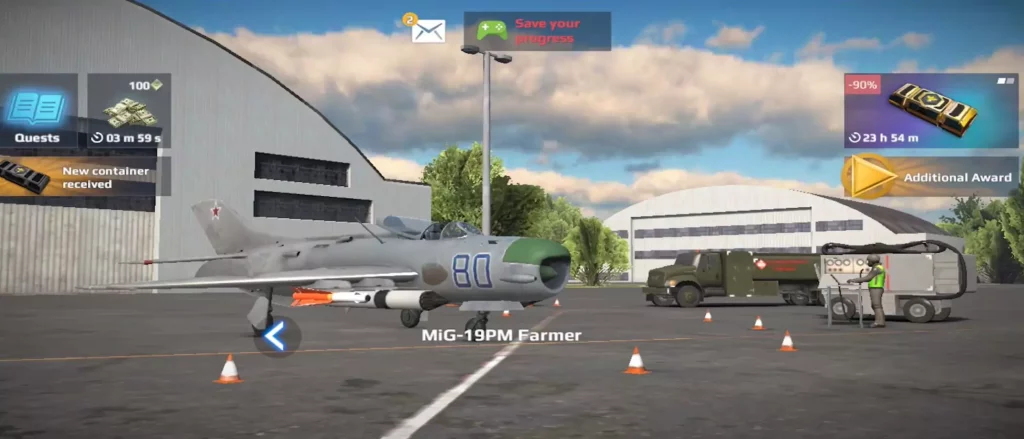 Main Features: Sky Combat Mod APK
Unlimited Money and Gold
Buying premium game items and upgrades will utilize a lot of the time and resources of the players. To make faster progress in the game, you must for Sky Combat Mod APK Unlimited Money and Gold download. You can use these mod features to grab upgrades and unlock new features of the game. Your gameplay will improve positively, and you will always stand victorious.
All Planes Unlocked
As you know, aircraft will play a crucial role in your success in the game. So, use the amazing features of Sky Combat Mod APK All Planes Unlocked. Now, it is up to you to choose the best one that suits the need of the gameplay. You can try several planes to test your strategy and stick to the winning one.
Unlocked Everything
With everything unlocked feature, you will have access to every premium feature of the game. Sky Combat Mod APK Unlocked Everything will let you bypass any in-game purchases. Gain a visible competitive advantage over other players through this mod.
Conclusion
After downloading and playing the Sky Combat game, one thing that will come to your mind is that you should have installed this game much earlier. Interesting gameplay and amazing upgrades and graphics will double your game's pleasure. Download Sky Combat Mod APK now to start amplifying your combat experience.